Laila Hishaw, DDS
Priya Y. Abramian, DDS
Board Certified Pediatric Dentists
5920 N. La Cholla Blvd.
Suite 110
Tucson, AZ 85741
(520) 544-4171
2810 N. Swan Rd.
Suite 140
Tucson, AZ 85712
(520) 881-2966
8265 S. Houghton Rd.
Suite 131
Tucson, AZ 85747
(520) 664-9000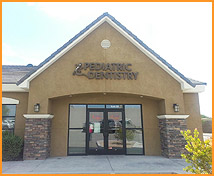 Our three offices are conveniently located throughout Tucson.
Located on La Cholla Blvd 1 block south of Rudasill between Orange Grove and River.
Located in the Swan North office complex on Swan Blvd 1 block north of Glenn.

Located on Houghton Blvd south of Rita Road.
Our reception areas are designed for a comfortable waiting experience. There are children's toys and entertainment available.
Our front office associates are available if you have any questions or concerns. We offer convenient appointments at all three offices to fit your busy lifestyle.
Our treatment area is equipped with state-of-the-art technology. Our back office associates have a combined 20 years of pediatric dentistry experience. We are committed to helping your child achieve an enjoyable, child-friendly visit.